Aloe Vera Face Moisturiser
£8.50
This is a light, fragrance-free moisturiser which contains a very high proportion of organic aloe vera. 60ml.
This used to be called Aloe Vera Moisturiser, it's the same lovely product inside just with a new name.
The soothing and healing properties of this cream make it helpful in treating sunburn, mild burns and rashes. For sensitive skin & aftersun use.
Featured Ingredients:
Click to learn more about each: Sunflower Oil, Sweet Almond Oil
Full Ingredients:
Aqua, Aloe Barbadensis Leaf Juice, Helianthus Annus, Cetearyl Alcohol, Prunus Amygdalus Dulcis Oil, Glycerin, Cera Alba, Rosa Centafolia, Dehydroacetic Acid, Benzyl Alcohol.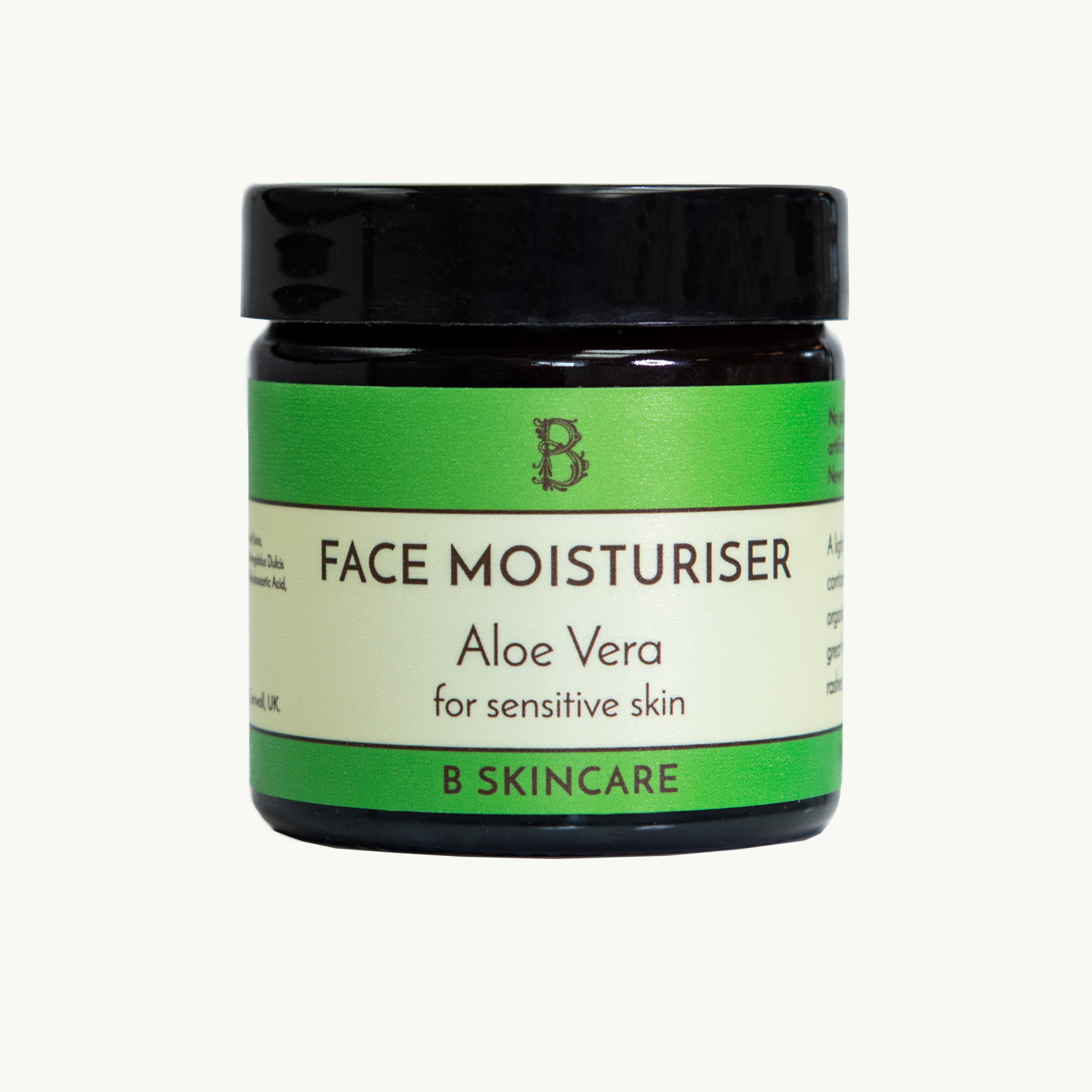 Reviews
I really like this moisturiser as it rubs in well, nourishes my skin but isn't smelly!

Tom
I bought this whilst on holiday in Wales. I really like it. I have sensitive combination skin, that is slowly getting drier. This product is light, whilst still plumping up my skin. I've always found aloe vera to be a soothing substance and this cream is. The other reason I like it is that it is fragrance free. Fragrances can really irritate my eyes and nose. So please B skincare make some more fragrance free products – I would particularly like an all over moisturiser

Brenda
I have recently tried, with increasing desperation, several natural and/or organic creams on my daughter's serious eczema flare. One or two of these temporarily soothed it a bit whilst a couple of others sadly had her crying with pain because they burnt and stung her already inflamed skin (needless to say I washed them off immediately.) Having recently received my order from B and found this face cream really light and soothing but hydrating on my sensitive face, I decided to try it on a tiny area of the least bad sore patch of my daughter's eczema and, with no sensations of discomfort at all, we progressed from there. The results have been astounding! This cream is never irritating, even on very raw skin, and her arms began to heal and skin condition become restored exceptionally quickly. We saw dramatic results in just 24 hours of using it two or three times a day. Now a week on, the eczema has almost completely healed. Thank you B!! I only wish you had an option to purchase this in bigger jars :-)

Alice
love this!! I have Lymphoedema and have to moisturise plus plus. This is the only moisturiser I have found that my sensitive skin can take. usually i react within a few uses but not with this. it works beautifully.
Thankyou.

Sue Cross
This cream is moisturising and very kind to my skin. I love the fact that the ingredient list contains only what is needed, with no unnecessary additives. I have paid more for other moisturisers that are not as good as this. Really like this product and will keep purchasing, thank you B Skincare.

Caz
I honestly can't rate this highly enough. I LOVE this moisturiser. It glides on the skin leaving it feeling feels soft and light without leaving any film of greasiness. If you're after a dewy complexion this really does the trick. You also get a feel-good boost knowing you're supporting a family business based in the beautiful countryside of Cornwall. I'm lucky enough to be able to visit their shop as I live nearby. And all at a fraction of the cost of beauty house products. Highly recommended!

Jill
Honestly obsessed! The aloe moisturiser is my favourite out all the ones I have from B Skincare! My whole skincare routine from cleansing, exfoliating, moisturising and remedies are from here now, just the most lovely company and the best products x

Claire
This cream has dramatically improved my rosacea. I was so impressed I recommend it to a friend who also suffers from the same condition. She thinks it may have magical powers!

Emily Ingram
Brought this at a stall in a Christmas market. After asking a kind man what moisturiser would be best for my skin. He recommended this product.
It is a gift from the gods, I am fully converted to this product and this product only, it has cleared up any imperfections! 1000% recommend.

Ashleigh
A big thank you for your products- it is rare to do repeat orders for skin products as my skin is so sensitive. But at last I have found some that I am really happy with and so is my skin!

Wendy
Tell us and our customers what you think! Click the button below to leave a review.