Aloe Vera Face Moisturiser
£8.00
This is a light, fragrance-free moisturiser which contains a very high proportion of organic aloe vera. 60ml.
This used to be called Aloe Vera Moisturiser, it's the same lovely product inside just with a new name.
The soothing and healing properties of this cream make it helpful in treating sunburn, mild burns and rashes. For sensitive skin & aftersun use.
Featured Ingredients:
Click to learn more about each: Sunflower Oil, Sweet Almond Oil
Full Ingredients:
Aqua, Aloe Barbadensis Leaf Juice, Helianthus Annus, Cetearyl Alcohol, Prunus Amygdalus Dulcis Oil, Glycerin, Cera Alba, Rosa Centafolia, Dehydroacetic Acid, Benzyl Alcohol.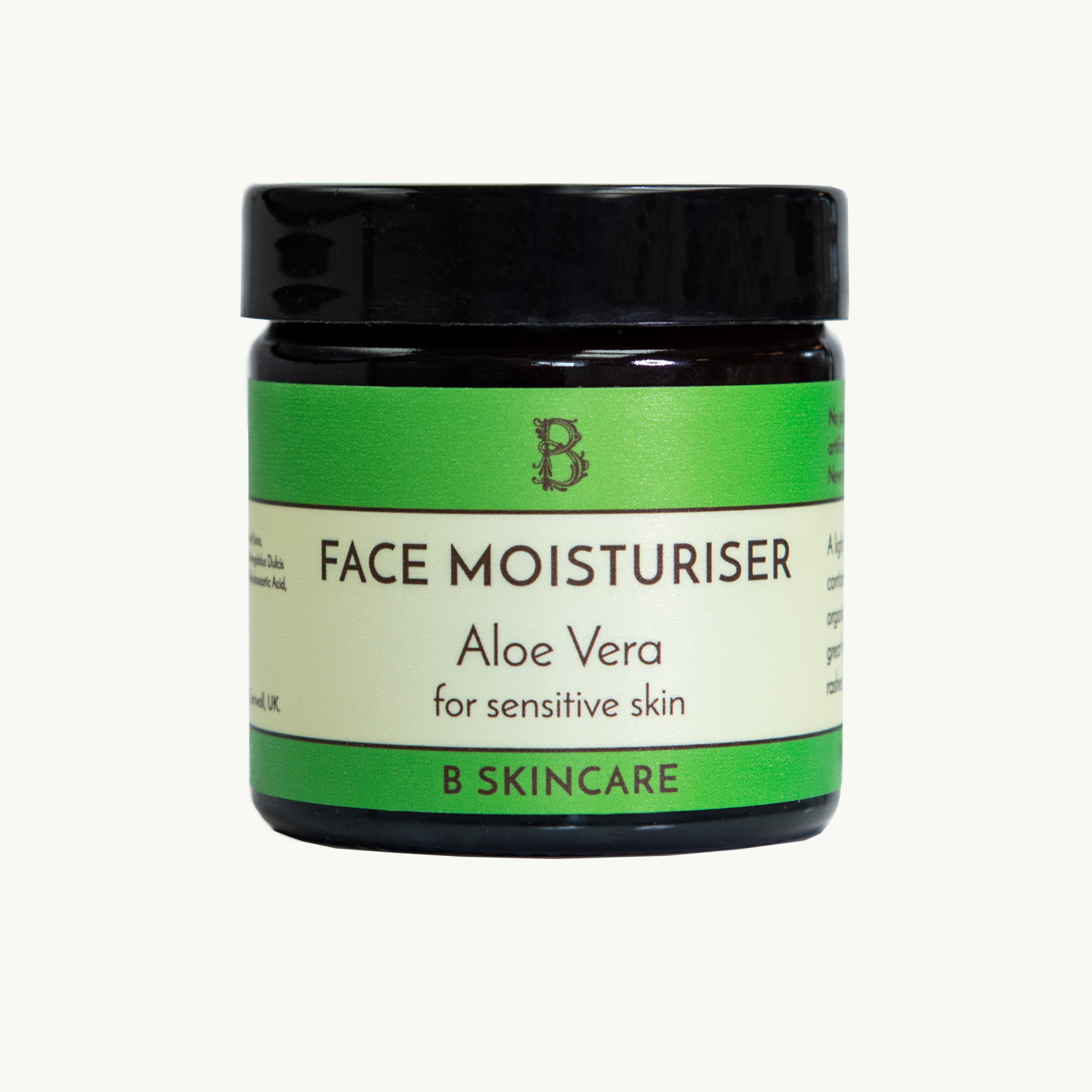 Reviews
Brought this at a stall in a Christmas market. After asking a kind man what moisturiser would be best for my skin. He recommended this product.
It is a gift from the gods, I am fully converted to this product and this product only, it has cleared up any imperfections! 1000% recommend.

Ashleigh
I've been using this cream since I came across this lovely stand at a christmas fair 2 years ago. It's the only moisturiser that doesn't aggravate my acne prone skin. It's lovely and creamy, absorbs quickly and doesn't leave my skin feeling greasy. I can't recommend this enough! I wish you made it in vats so I could climb into it!

Lizzie
I bought this whilst on holiday in Wales. I really like it. I have sensitive combination skin, that is slowly getting drier. This product is light, whilst still plumping up my skin. I've always found aloe vera to be a soothing substance and this cream is. The other reason I like it is that it is fragrance free. Fragrances can really irritate my eyes and nose. So please B skincare make some more fragrance free products – I would particularly like an all over moisturiser

Brenda
I really like this moisturiser as it rubs in well, nourishes my skin but isn't smelly!

Tom
A big thank you for your products- it is rare to do repeat orders for skin products as my skin is so sensitive. But at last I have found some that I am really happy with and so is my skin!

Wendy
I honestly can't rate this highly enough. I LOVE this moisturiser. It glides on the skin leaving it feeling feels soft and light without leaving any film of greasiness. If you're after a dewy complexion this really does the trick. You also get a feel-good boost knowing you're supporting a family business based in the beautiful countryside of Cornwall. I'm lucky enough to be able to visit their shop as I live nearby. And all at a fraction of the cost of beauty house products. Highly recommended!

Jill
Bought this cream as I needed something really soothing for my skin as I had a raised, itchy bit on my cheek due to the fact I wear a mask at work and it had irritated my skin. I was using a cream with hylaronic acid in it and didn't realise it was irrating my skin further.
From the moment I put this cream on, it instantly soothed and calmed my skin. Love this product and this company and will definitely be repurchasing and trying different products.
Thank you B Skincare!

Angie Crocker
Honestly obsessed! The aloe moisturiser is my favourite out all the ones I have from B Skincare! My whole skincare routine from cleansing, exfoliating, moisturising and remedies are from here now, just the most lovely company and the best products x

Claire
I have skin that's really prone to breakouts, but I tried this moisturiser as a sample and it doesn't clog my skin and so light so had to buy it full size! I would definitely buy again, it's hard to find a natural moisturiser that not full of pore clogging ingredients but this one is the holy grail!!

Olivia
This cream is moisturising and very kind to my skin. I love the fact that the ingredient list contains only what is needed, with no unnecessary additives. I have paid more for other moisturisers that are not as good as this. Really like this product and will keep purchasing, thank you B Skincare.

Caz
Tell us and our customers what you think! Click the button below to leave a review.